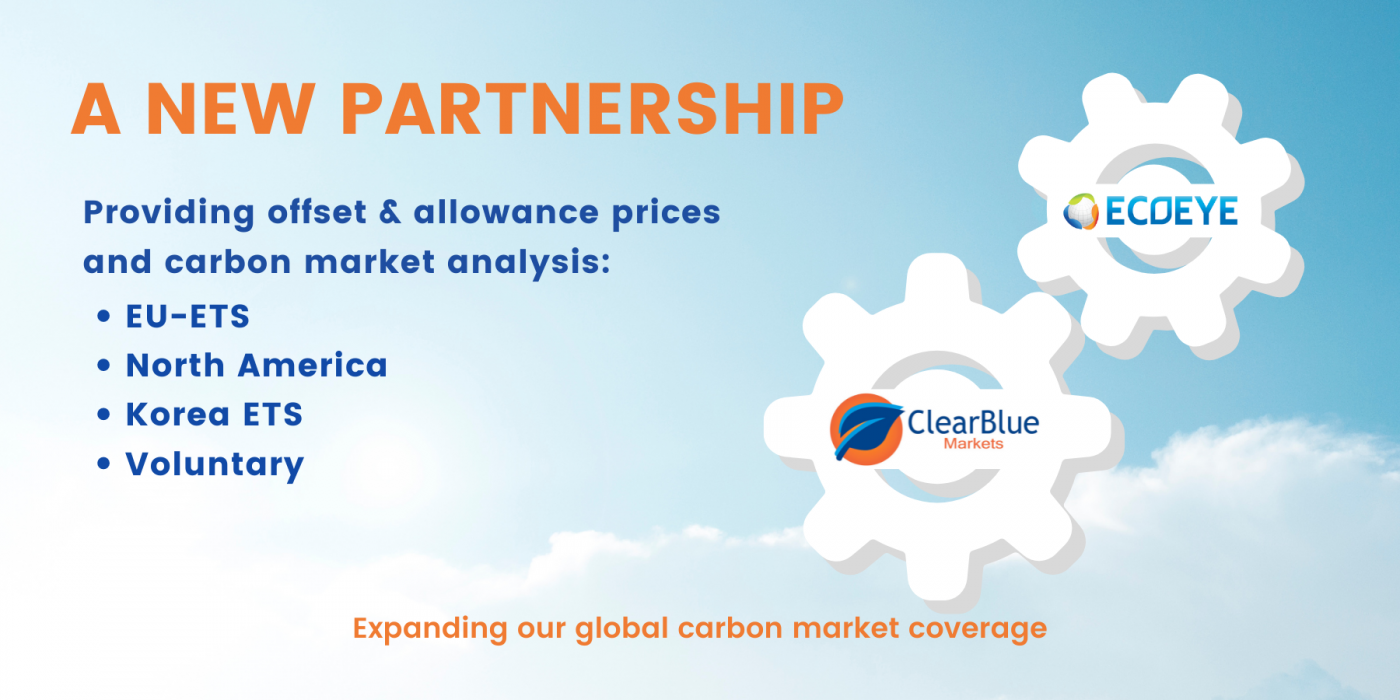 Ecoeye is excited to offer our domestic clients a broader coverage of the world's carbon markets through a new strategic partnership with ClearBlue Markets. Thanks to the global movement towards Net-Zero, facilitating increased access to international carbon markets has become critical to supporting our clients actively work towards meeting their emissions reduction targets while likewise supporting emissions-reduction projects addressing climate change. Collaboration through communicating prices and sharing market analysis is becoming more important than ever, and this partnership will strengthen and amplify the knowledge which we share with our customers.
The partnership will provide Ecoeye's clients with access to ClearBlue's coverage of EU-ETS and international voluntary offset markets, while ClearBlue's clients will gain access to Ecoeye's Korean ETS offset prices and market analysis.
Information is now available through our domestic portal, including:
Historical and daily carbon allowances prices

Market analysis

International offset prices and voluntary carbon market update

Credit issuances and retirements from the American Carbon Registry, Climate Action Reserve, Gold Standard and Verra
For any inquiries, please contact us.
About ECOEYE
Ecoeye is Korea's unrivaled carbon credit provider based in Seoul, Korea. With over fifteen years of experience, Ecoeye aims to provide effective, practical and sustainable solutions for and with all our partners and clients all over the world.
About ClearBlue Markets
ClearBlue Markets is a leading carbon pricing specialist company that has pioneered the carbon markets since 2000. The ClearBlue team has unmatched practical experience in all aspects of Carbon Pricing markets, ranging from policy through to compliance management, trading and offset development. With this market focus, ClearBlue is devoted to providing integrated and cutting-edge solutions to capture and manage carbon value.